Key elements,


a perfect dialog.
Native iOS App (iPad)

Manage the day-to-day running of your restaurant in the easiest way.

Back office (web)

Configure and manage the foundations of your business from anywhere.

Integrations


Connect everything to your software ecosystem (current or future).

Typical hardware

Complement it with other elements that you need: 
Printer – Intelligent cash drawer – Scale – Payment terminal.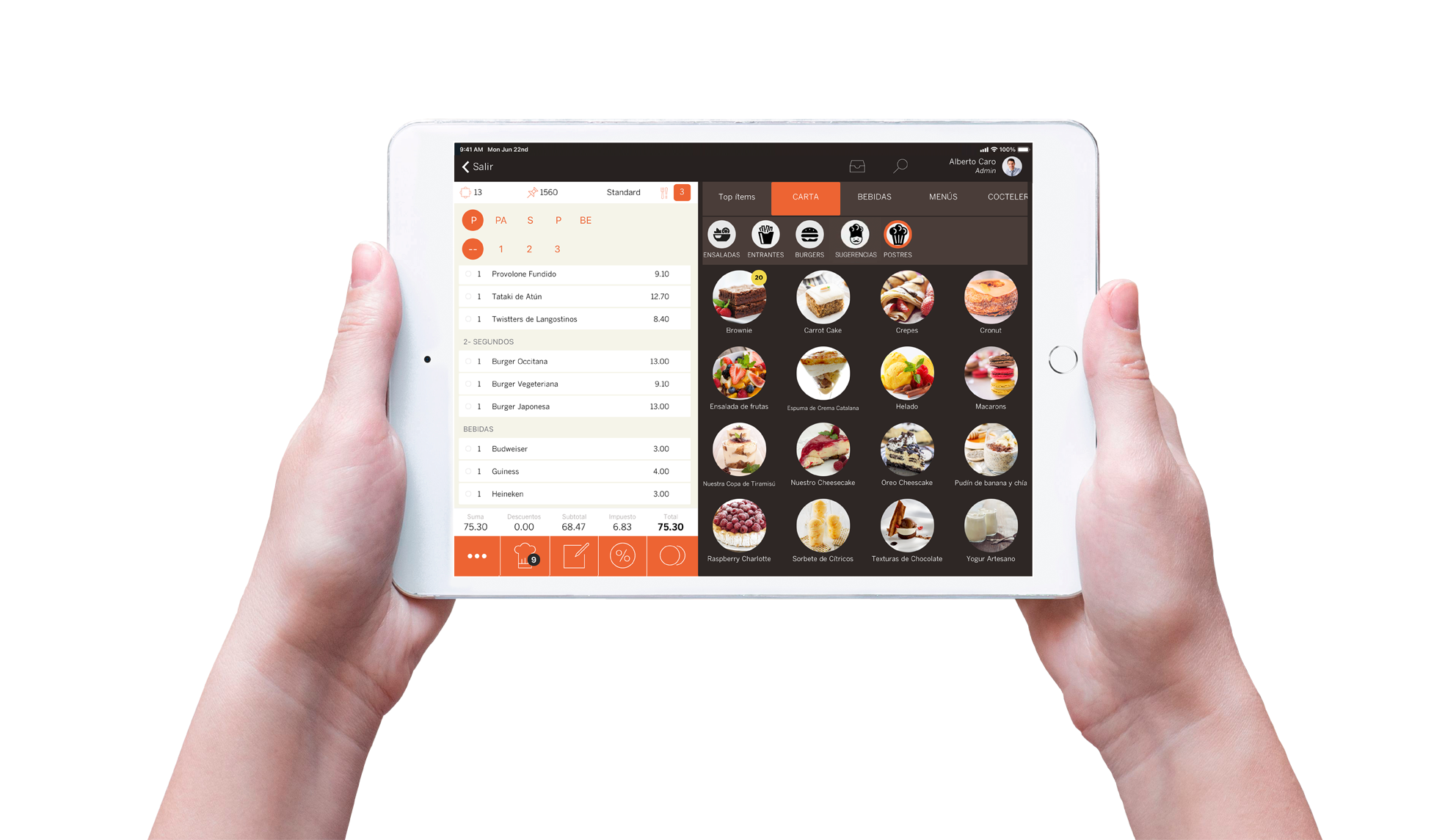 Order management,
child's play.
Take down and edit orders. Add notes and send to kitchen. All on the iPad and in real-time.
Maximum simplicity when collecting payment.

Split the bill. Apply discounts and use differentiated rates. Print personalized receipts and send invoices by email. Make payment collection an easy experience.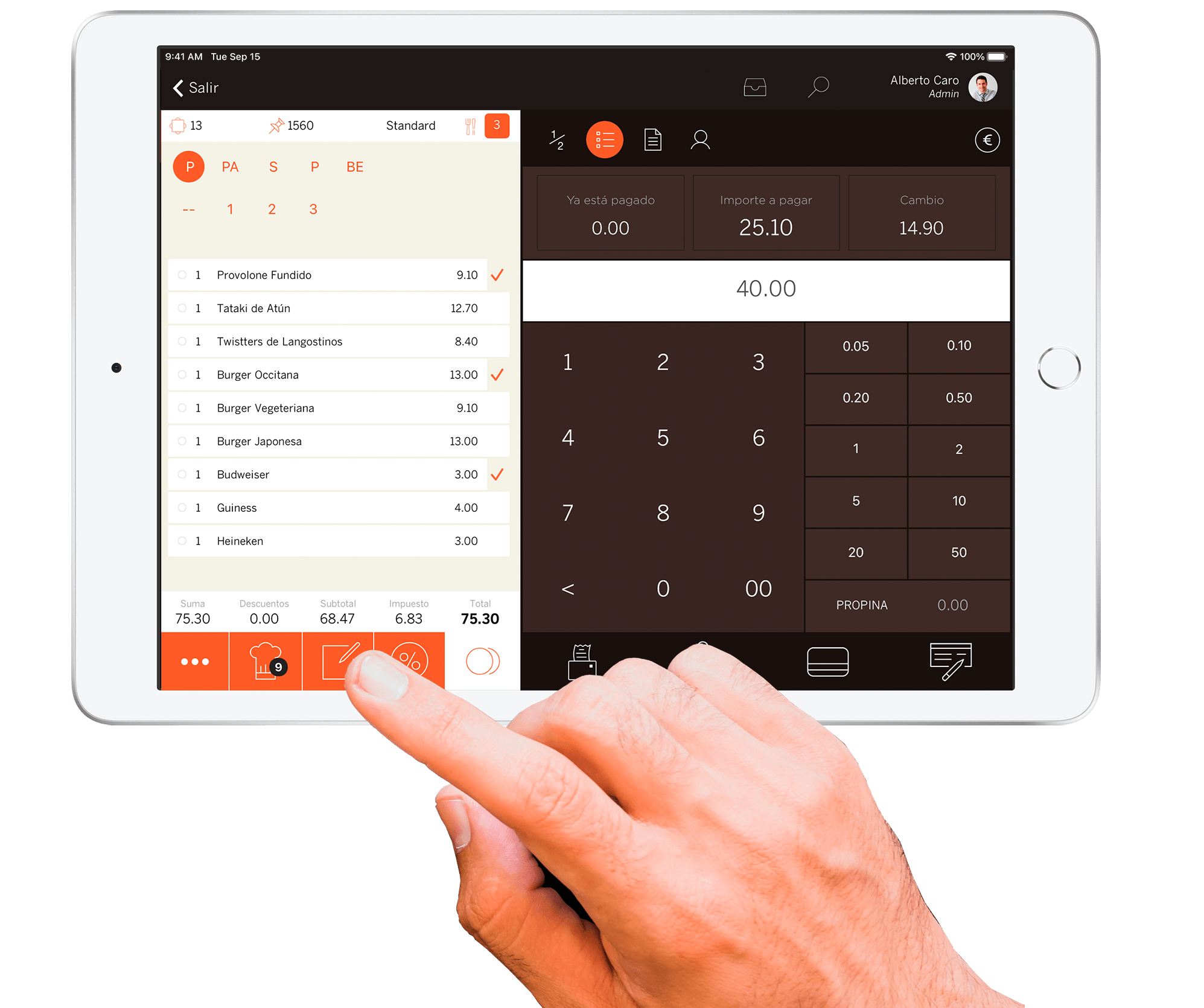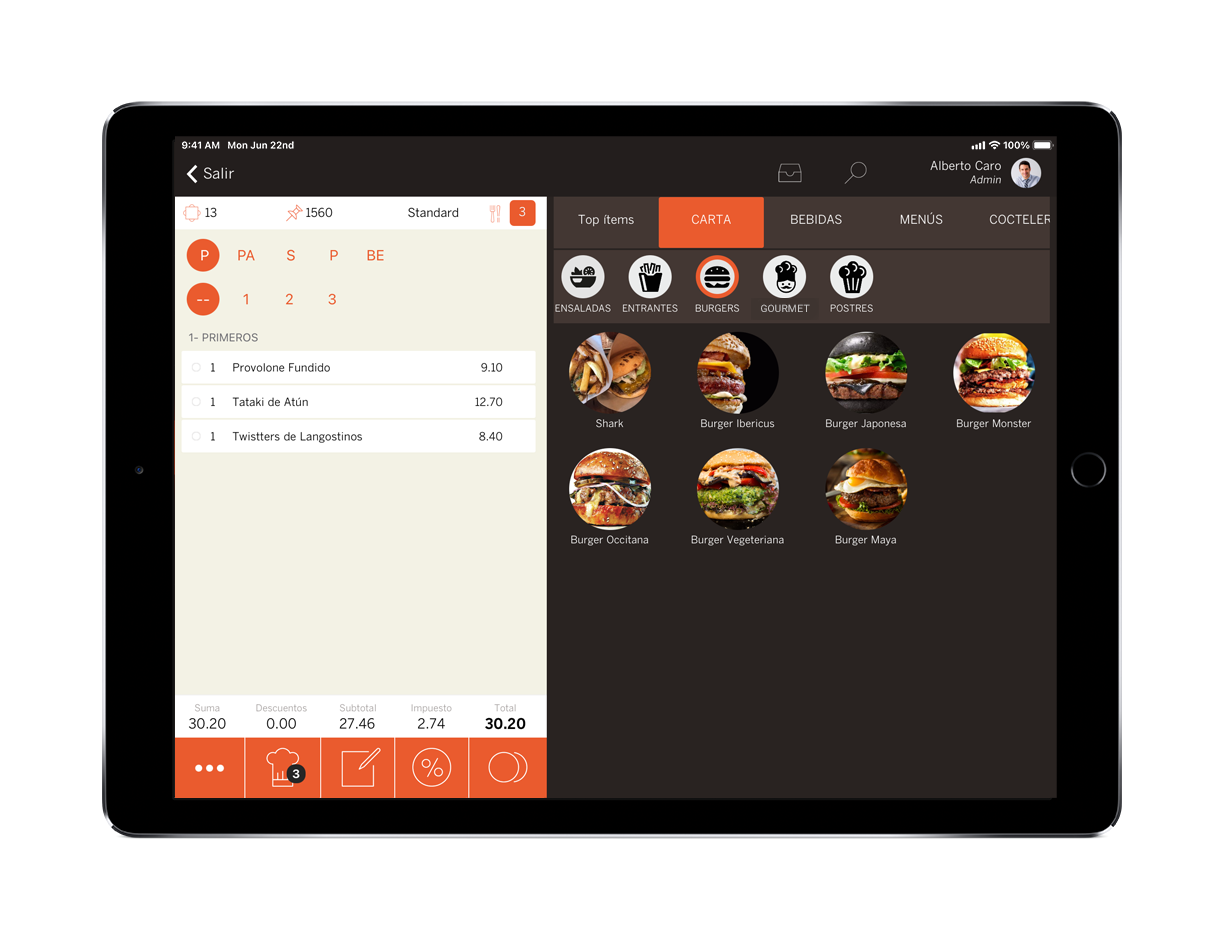 Your catalog at a glance.
Organize the products your way. Display images of your dishes on the iPad. Use intelligent options to prepare the order and fine-tune the preparation of orders.
Your delivery or takeaway, one more service.
Receive your home delivery and pick-up orders from different platforms and directly at your point of sale. It's that easy.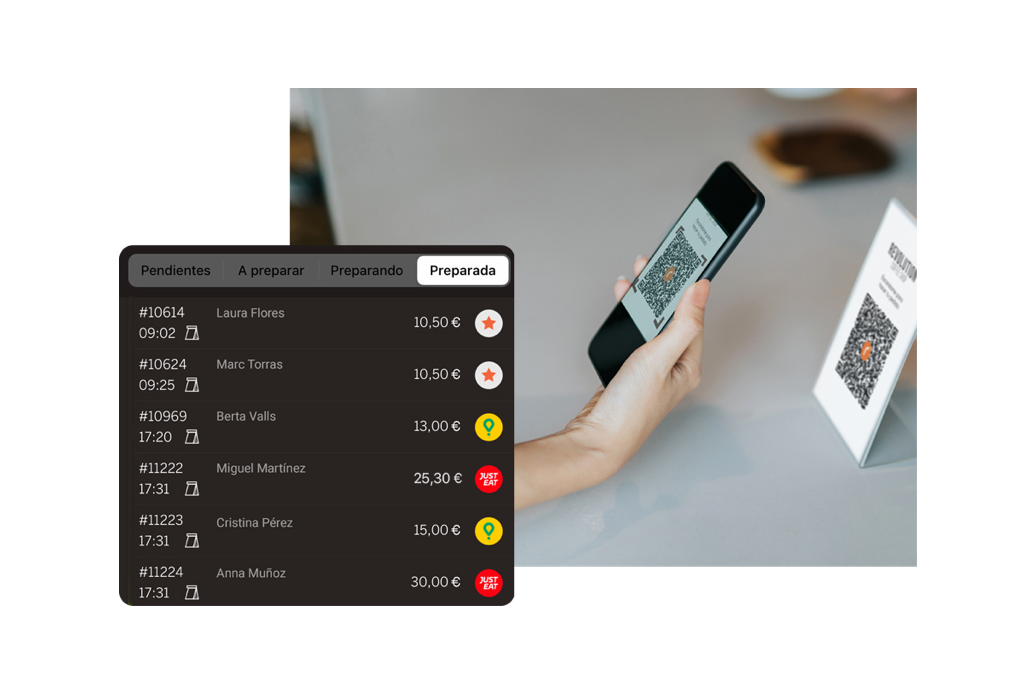 Adapted to your way of doing things.
Choose from 3 working modes or combine them all.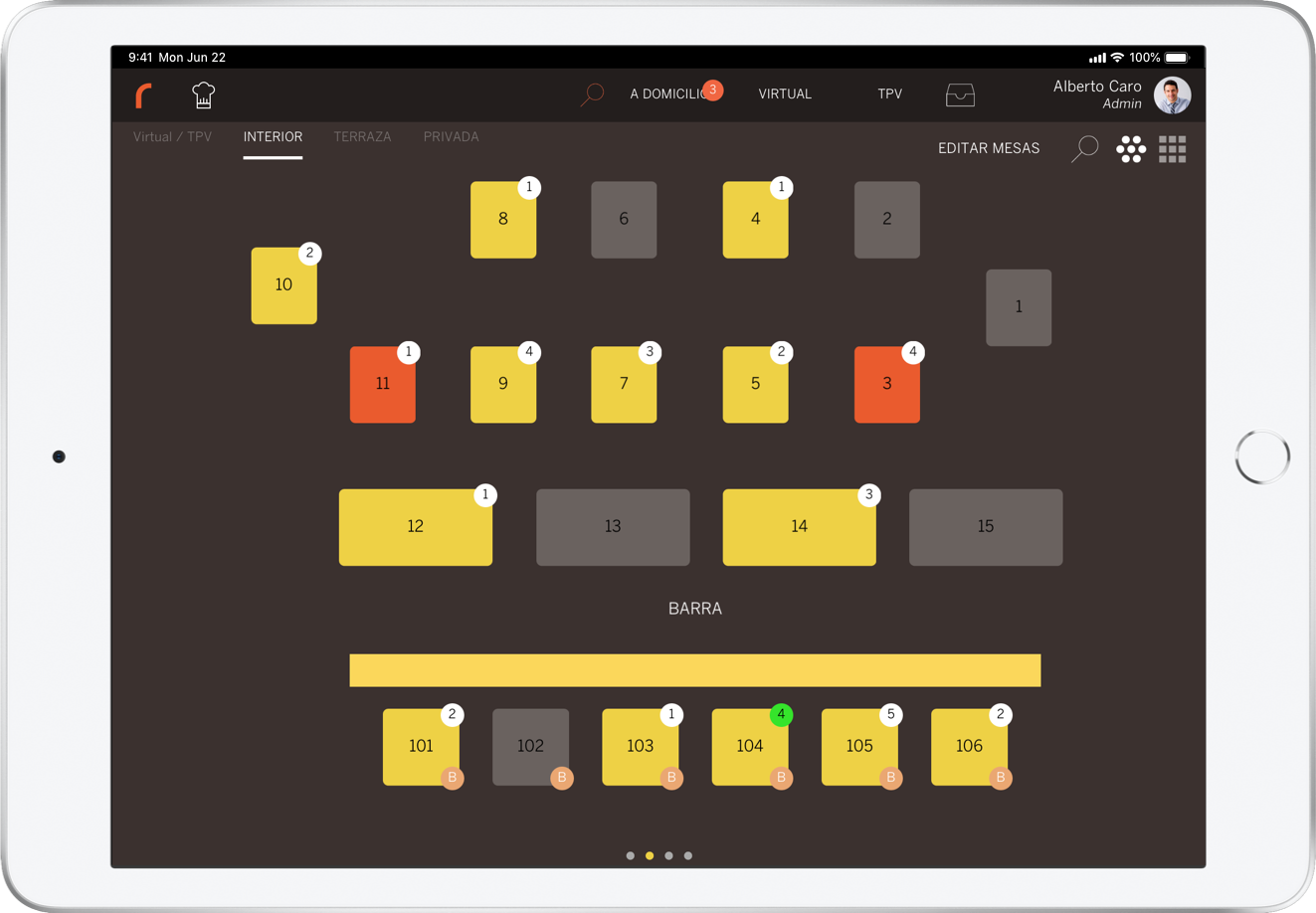 Tables
Use the iPad as an ordering tool at tables.

Design your table and area plan (including multi-room).

Move and group tables and easily return to the original plan.

Monitor the status of your restaurant at any given moment.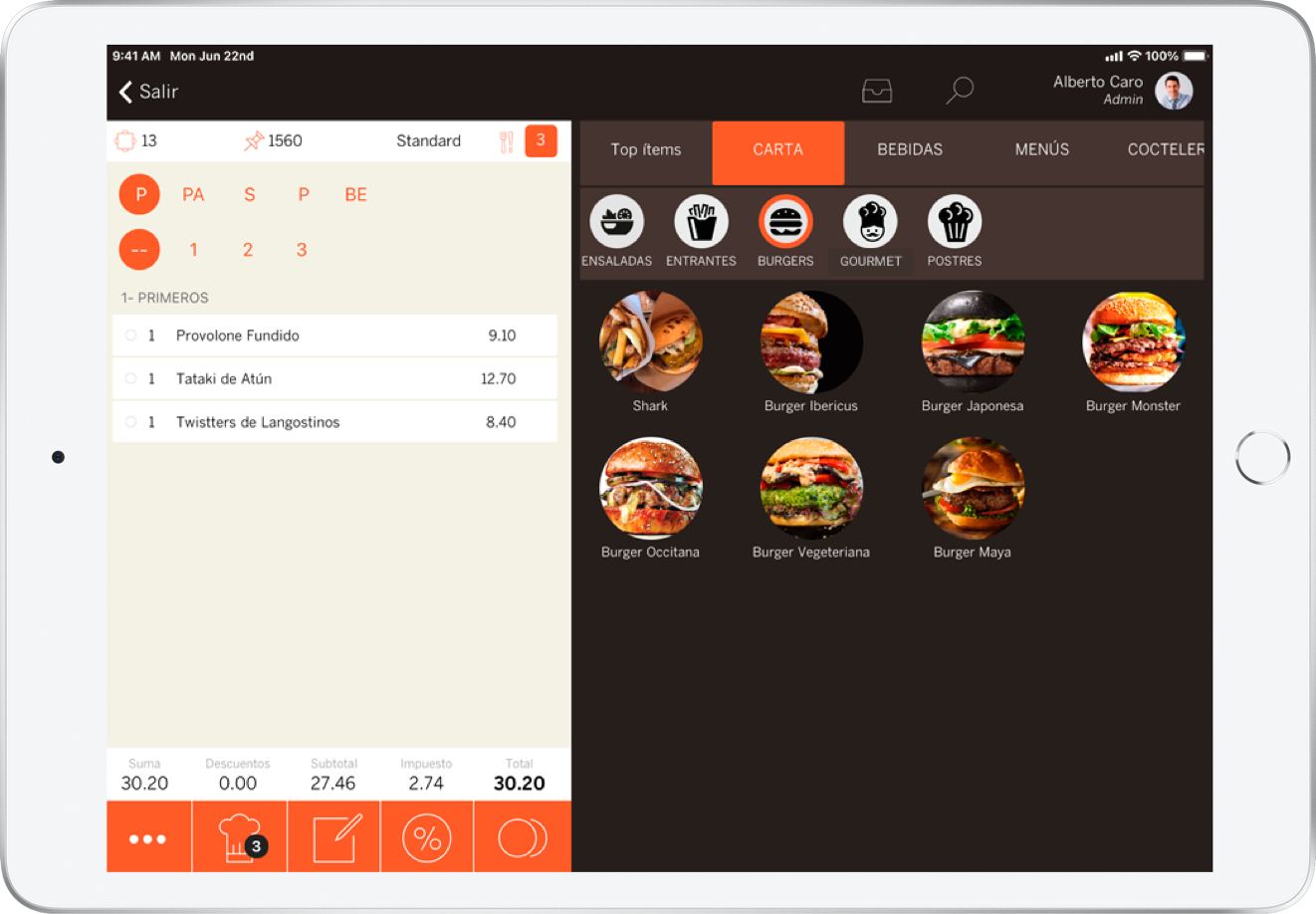 Bar (POS mode)
Add products to a new order and collect payment quickly.

Use the virtual tables option to "park" orders.

Continue the sale or link the order to a table at any time.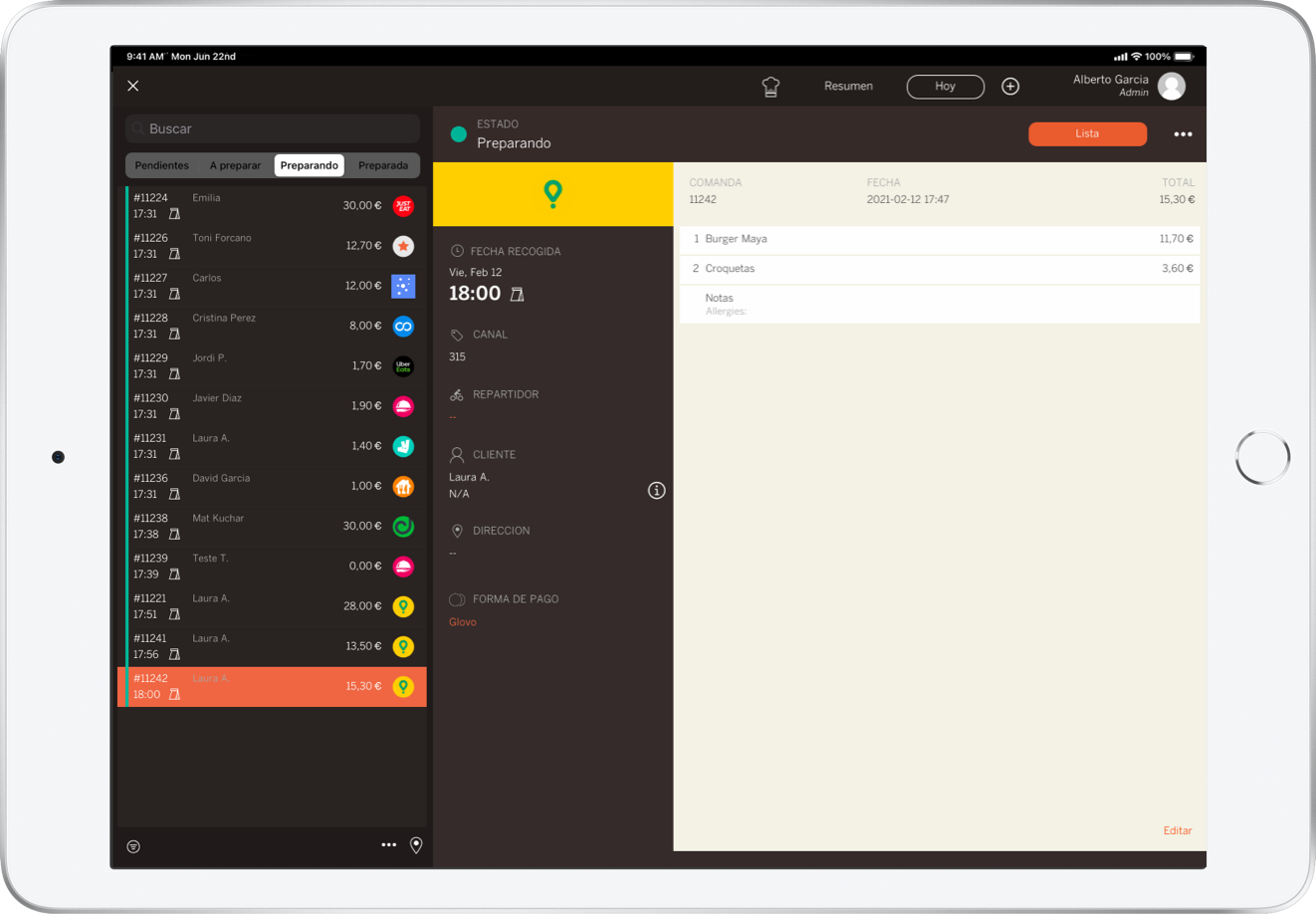 Takeaway & delivery
Manage pick-up and delivery orders directly in your POS (the default module included in Revo XEF).

Connect with different platforms (Glovo, UberEats, etc.) or set up your own delivery service through Revo SOLO.
With REVO we can see what is happening at our restaurant in real time and from anywhere.
– Óscar García,
Círculo restaurant
Set up and manage
your business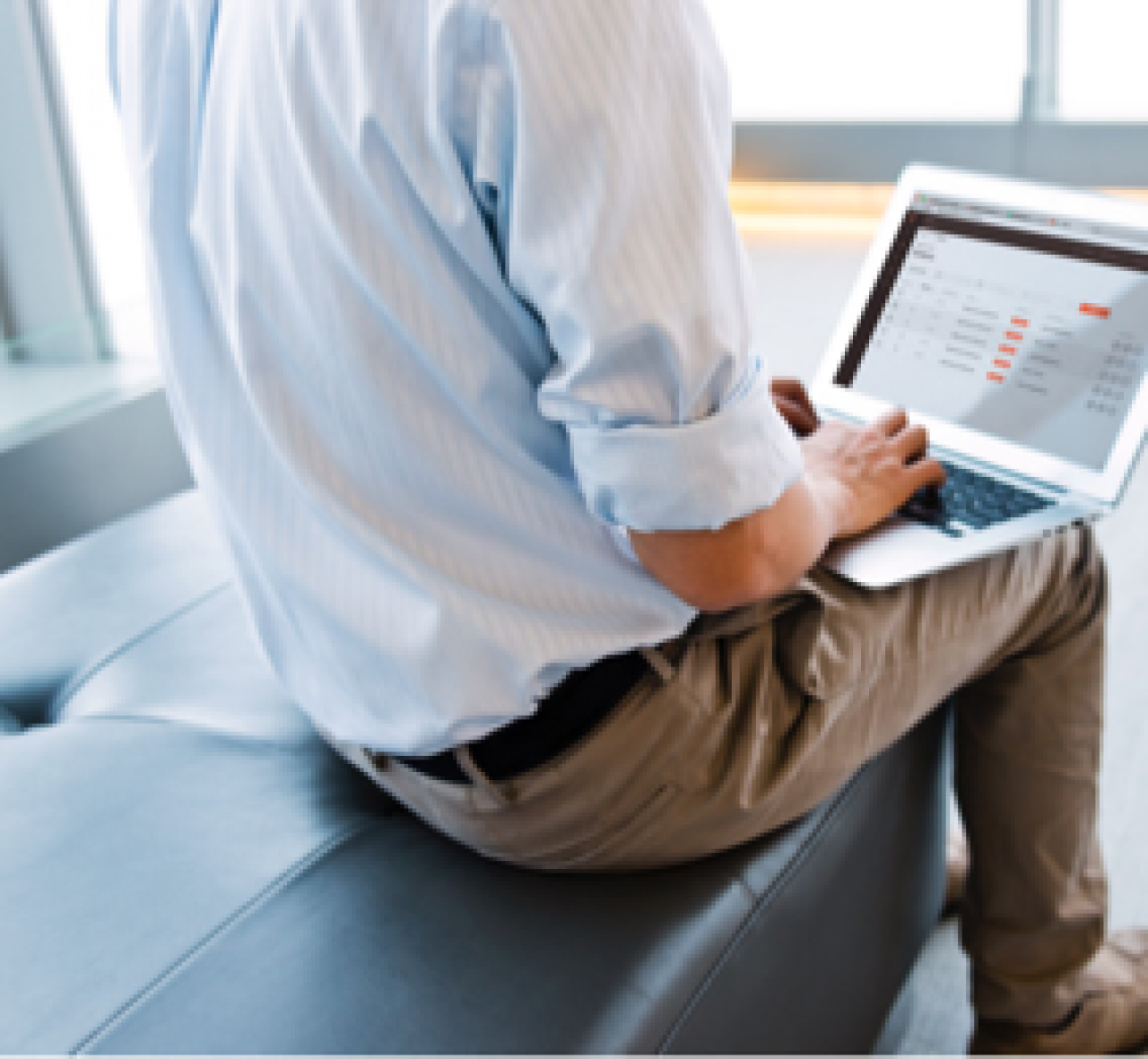 ---
Business configuration
Manage and analyze your business from any device with a web browser.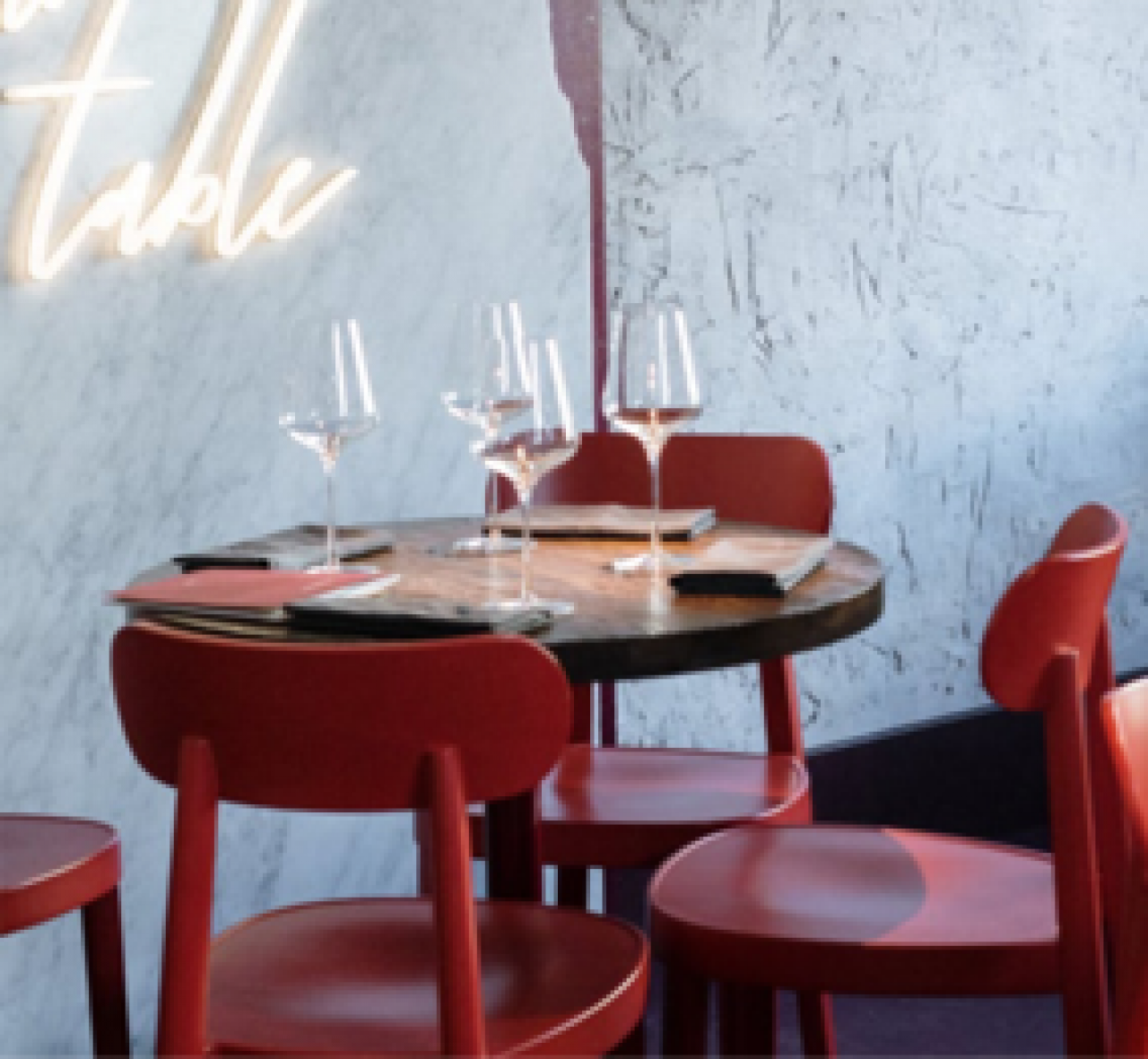 ---
Chains and franchises
Manage common elements shared by several points of sale from a single database.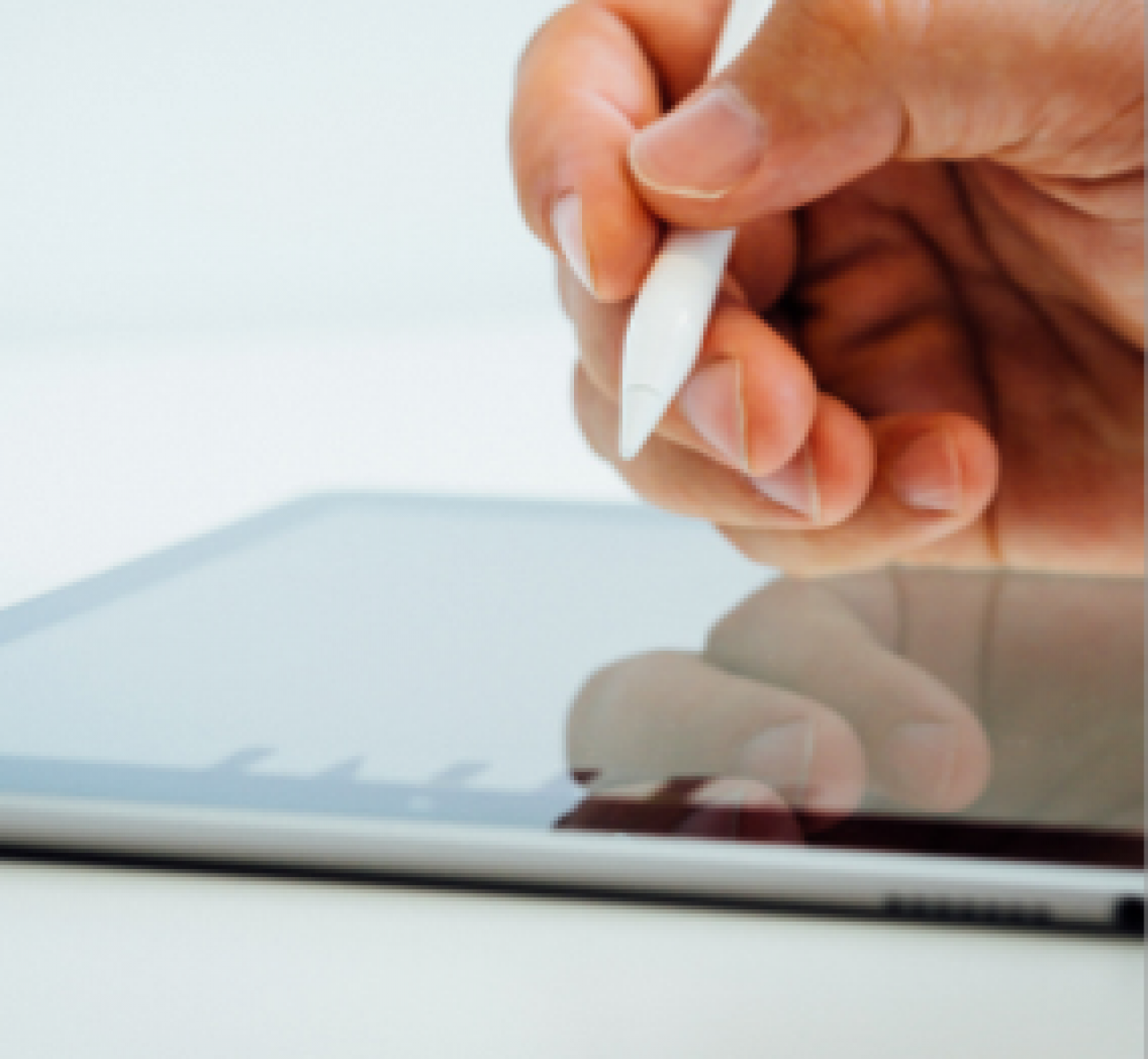 ---
Multi-account
Access the different accounts with a single login.
Our standard satellite apps
Stock under control

Enter products, move between warehouses, control quantities, and receive alerts.

Your business,
always at your fingertips

Access your key business data at any time and on any smartphone.

A happy ending to every purchase

A customer display with a clear summary of the purchase and promotional messages of interest.
Additional Apps
Purchase them to further enhance the power of your business.
All order management
in a single location.

Omnichannel at the service of
you and your customers.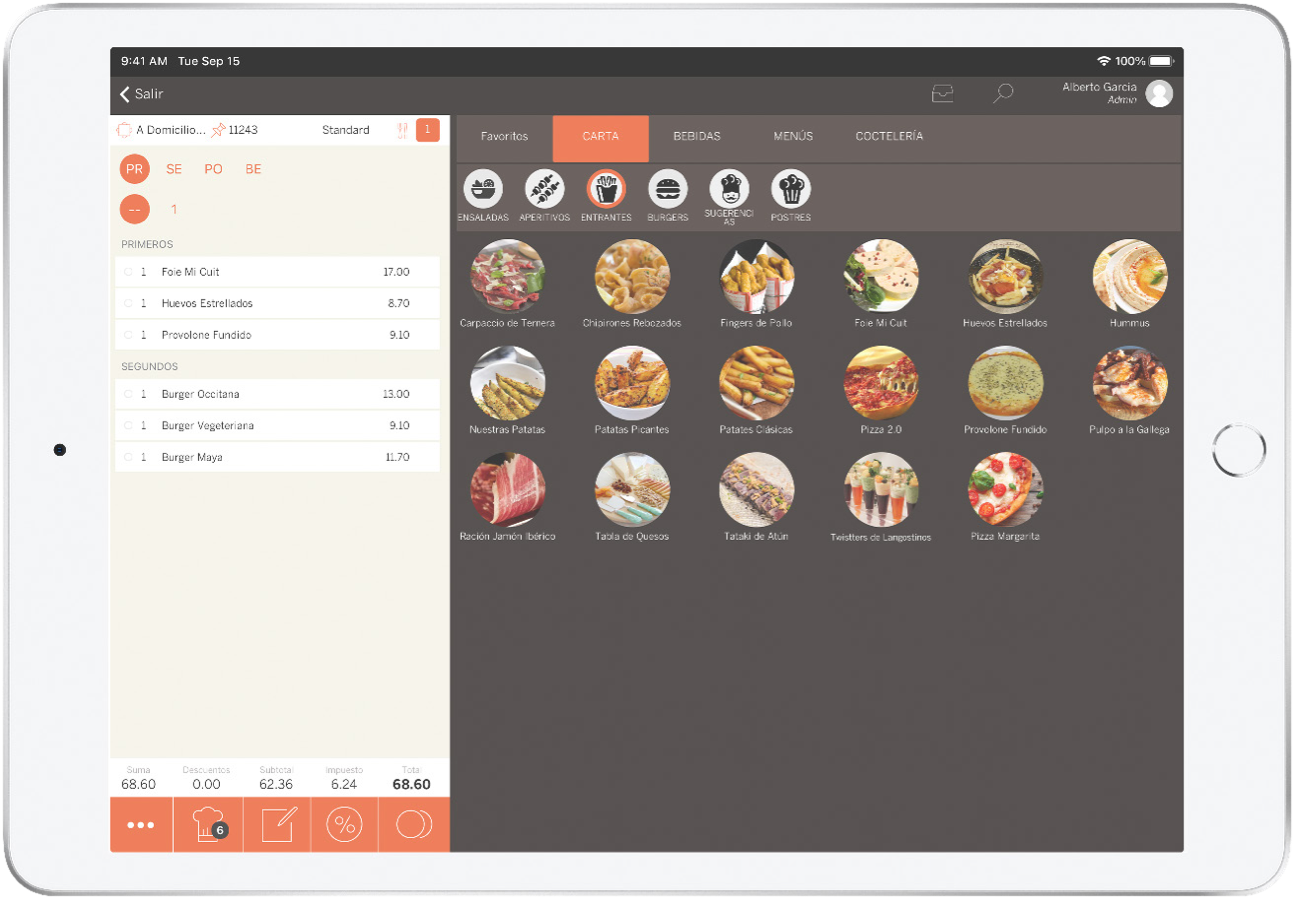 Web-based app for
self-ordering and payments
Satellite apps included
No additional cost
(except Revo XEF One version)
Other compatible satellite apps
At additional cost
Connect with other
third-party solutions
DISPOSITIVOS E IMPRESORAS
Dispositivos
1
1
2
4
Ampliable a

máx. total

4
sin límite
Impresoras/KDS
1
1
2
4
Ampliable a

máx. total

2

máx. total

4
sin límite
FUNCIONALIDADES PRINCIPALES
Gestión de comandas
3 modos de trabajo

mesas, barra, delivery & take-away

Proceso de cobro
Tickets, facturas y recibos
Gestión de clientes
Back-office

administración y configuración del
negocio; informes y analíticas

Control de stock
Posibilidad de conectar con
integraciones
Perfiles de usuarios y de
impresoras
Promociones

En la versión

Plus+Promos

incluidas


sin coste adicional

no incluidas


con coste adicional

APPS SATÉLITE